Beta85X V2 - a new whoop style quadcopter. We converted Beta85X V2 to the popular pusher configuration. Comes with two HD camera mount options - Insta360 GO and Customized Naked Camera, pilots can choose the HD camera for FPV filming. With Gemfan 2020 4-blades propellers, 1105 motors and F4 AIO 12A FC V3, it could provide cinematic footage in smooth flight. If you have the DJI FPV goggles, you can also choose the Beta95X V3 HD Digital VTX version. Expect that, we provide the Beta95X V3 Whoop Quadcopter too.
Bullet Point
New whoop style, better fly operability. With the quite popular pusher configuration, cameras and batteries are placed on the top of the drone. The drone can be controlled better in flight while the center of gravity is concentrated.
Beta85X V2 supports to install two HD cameras, more choices for your FPV shooting. It especially comes with 2 camera mounts, pilots can equip Insta360 GO or Naked camera case on the drone to get a fairly clear video.
Stable camera, clear video. Beta85x uses a rubber damper to further eliminate the shake of the HD camera on the flight. Pilots can capture all the beautiful moments of flight with a stabilized and clear video.
With the 15° degree camera mount, Beta85X V2 is perfectly suitable for recording HD video on a smooth flight.
Specification
Item: Beta85X V2
Power system: 4s
Weight: 78g (without battery)
FC: F4 AIO 12A FC V3
Frame: Beta85X Frame
Motors: 1105 5000KV with connector
Props: Gemfan 2020 4-Blades Props
Receiver Option: Frsky XM+ / DSMX / Futaba S-FHSS / TBS Crossfire
Battery: 4S 450mAh Battery (Not including)
Camera: BETAFPV EOSV2 Camera (NTSC - 4:3)
Camere: 25-45° angle adjustable
Angle of recording camera mount: 15°
VTX: M02 25-350mW 5.8G VTX
Flight time: 4min - 5min with 450mAh 4s 75C battery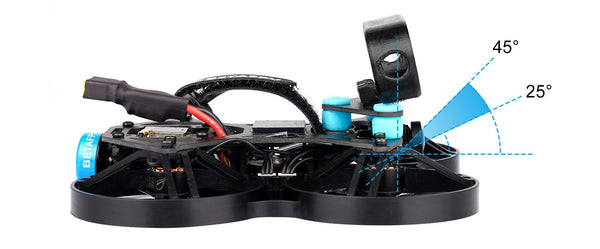 Insta360 GO
Beta85X V2 comes with 2 customized HD camera mounts, supports for Insta360 GO and Naked Camera, offering more choices for different FPV film shootings needed. Both professional HD cameras are built for capturing your every highlight on the flight. Providing cinematic footage, at high speeds, and with zero limits.
Insta360 GO camera is awarded "Best of new products" IFA 2019 by Business Insider. It shoots 30- or 60-second clips at the press of the button - anytime, anywhere, and it can use AI to help you find and edit your best shots. It also can use proprietary FlowState stabilization to keep your footage impossibly smooth. No gear. No hassle. To know more details about Insta360 GO, please click the link.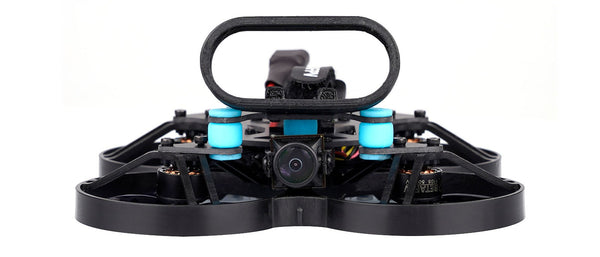 Customized Naked Camera
The camera mount for Customized Naked Camera is also provided, perfect to fix the Naked camera on the drone. What's more, we upgraded the case for Naked Camera, with the injection molding process, the new Case V2 is better looking and easier to install. If you have a GoPro HERO6/7, you can choose the BEC board and case to build one as our Naked camera. Meanwhile, we also released a new ND16 filter for Naked Camera, which not only protects the camera but also provides a better image.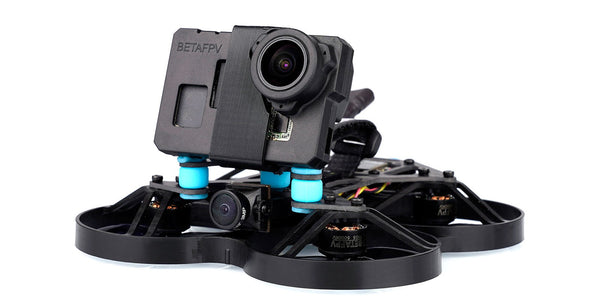 Pusher Whoop Style
The Inverted drone frame is the most popular pusher installation in the current market. It puts all the cameras and batteries on the top of the platform, perfectly concentrated the whole gravity of the plane on the center, brings the best fly operability.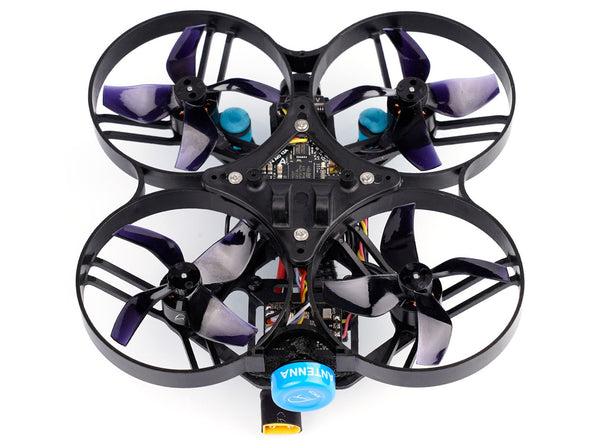 FC & ESC
F405 2-4S AIO 12A Brushless Flight Controller (BLHeli_S) V3 has been updated the F411 chip to F405, which can totally handle 12A continuous current(13A burst), gives pilots a powerful flight. Highly recommended using it on Beta75X series drone, Beta85X series drone and HX100 series drones such as Beta85X V2 and Beta85X HD Digital VTX.
Camera & VTX
Customized EOSV2 micro FPV camera is perfectly suitable for Beta95X V2 Whoop Quadcopter and Beta85X, it has high-quality video and low RF interference. In addition, M02 25-350mW VTX is a high-quality 5.8GHz VTX. With 350mW output power, pilots can fly drones up to 600 meters away to explore more possibilities and fun. With this image transmission combination, Beta95X V2 is perfect for FPV flying, brings an excellent flight experience.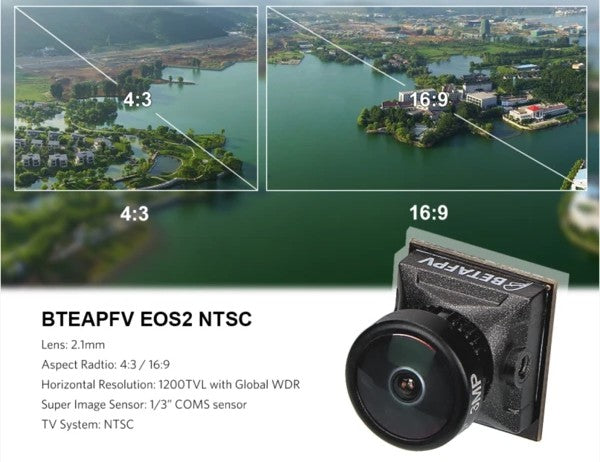 1105 5000KV Motors & Props
Lower 5000KV for Beta85X 4S, which could support 4S power and won't cause the issue of overheat. Providing stronger thrust in 4S whoop drone. Powerful, fast, and durable.
We DO NOT recommend the 1105 6000KV motors for 4S power because the motor may overheat or burn which will cause permanent damage on the motor or ESC. And don't use 1105 5000KV motors for 3S power, the performance will not be as good as the 1105 6000KV motors since lack of power.