UDI Gallop Speed Boat with 2.4Ghz Radio, Battery, Charger and Nose - UDI-008
This remote control racing boat is an absolute beast. It is capable of speeds up to 25km/h with its powerful electric motor. It comes out of the box equipped with a 2.4GHz radio (transmitter) and has a range of up to 100 metres.
The Gallop has an ingenious design that allows for the boat to flip back to upright by pinging the throttle when it gets upside down.
The Gallop also has a water cooling system to prevent over-heating of the electrical system and improve the overall life-span of the boat.
Gallop is supplied with a rechargeable liPo battery providing up to 8 minutes of run time from a full charge of 80 minutes. Measures 345(L) x 90(W) x 70(D)mm. Remote controller requires 4 x AA batteries.
Model: UDI-008
Weight: 322g
Speed: 20 to 25 km/h
Length: 345mm
Width: 90mm
Height:70mm
Sailing Time: 6 to 8 mins
Operating Temperature Rang: -10 ~ 40° C
Dimensions: 345 x 90 x 70 mm
Age Group: 14+
BATTERY:
Capacity: 600 mAh
Voltage: 7.4 V
Battery Type: LiFe
Net Weight: 49.5g
Charging Time: 80 to 100 mins
CHARGER:
Type: USB
Voltage: 5 V
Rated Power: 2.1 W
VEHICLE:
Water resistant double hatch design
Watercooled electronic
High/Low Speed Mode
Low battery alarm
Out of range alarm,
Self-Righting Hull Design
Full function - Forward, Backward, Turn left/right
TRANSMITTER:
Operating Frequency: 2.4 GHz
Transmission Distance: 80 to 120 m
Battery: 4×1.5 V Alkaline batteries AA (not included)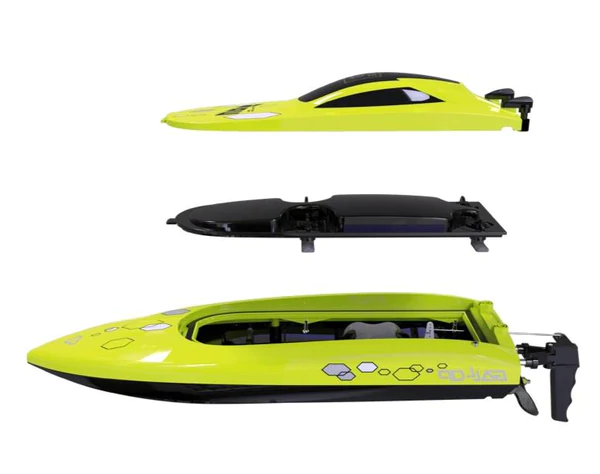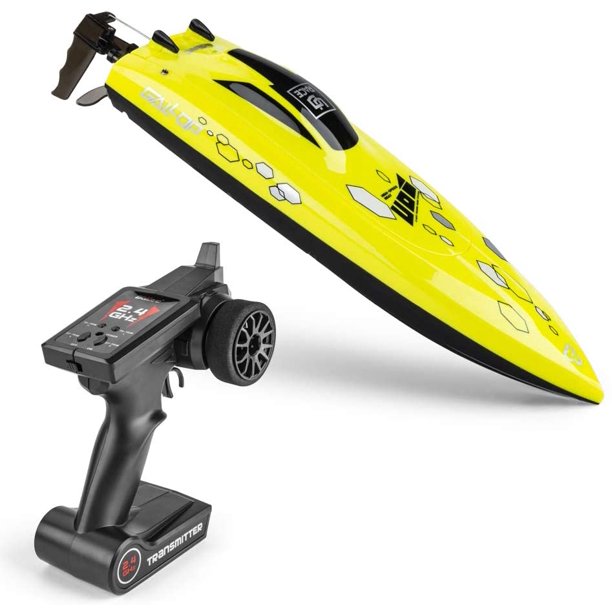 The UDI009 Rapid uses a powerful water cooled 390 class motor to achieve a impressive top speed of 30km/h. The hull is precision injection in strong plastic with a double canopy system to keep the electronics dry in the harshest of environments. The Rapid is supplied in RTR (Ready to Run) format meaning all of the electronics are all pre-installed and ready for you to use, all you need to do is charge the boat battery and add batteries to the controller (not included).

2.4GHz Radio System
The Rapid is supplied in RTR format using a high quality 2.4GHz marine radio system for nterference-free operation.

Self-Righting Sleek Hull Design
The streamlined hull is tuned for optimum handling and is able to run in relatively small bodies of water. There are two turn fins for increased agility and two adjustable trim tabs so you can set the angle the boat runs in rough or calm water. The hull of the boat was also designed to be able to turn back over in the unlikely event that it flips upside down.

Waterproof Design
The hull has been carefully designed for optimum water resistance. Under the top canopy hatch there is a second hatch with five locking catches and a foam seal forming a highly effective water barrier. Inside the boat generous amounts of sealant are used around the motor shaft and water pipes for a tight seal.

Brushed Water Cooled Motor
The Rapid is powered by water cooled brushed 390 class motor allowing it to reach speeds of approximately 30km/h straight out of the box!

Lithium Battery
The Rapid is supplied with a Li-Po battery for the best performance and duration. The 2x 3.7v format may seem unusual at first glance but it allows you to charge the battery using a 5V USB port with the included charger.

Low Battery Alarm
The built-in telemetry will alert you when the boat battery is running low on power. The controller will emit a distinctive beeping noise as an alarm to and remind you to bring the Rapid back to land.

Poor Signal Alarm
If you operate the Rapid too far away causing the 2.4GHz signal to weaken then the controller will alert you to bring the boat closer to keep a strong signal.

• Self-righting hull design
• Watercooled motor and ESC
• Safe start requires water to engage motor
• 2.4GHz Pistol style radio
• Easy battery change
• Strong water seal with 5 locks
• Strong moulded plastic hull
• Low battery/range alarm
• Boat stand included

Required to Complete
• 4x 'AA' batteries for the transmitter